We're guiding humanity to find their inner wisdom and medicine through ancient traditions, community, and Love

My name is Rosa… I'm a channel for spirit, spiritual coach, and curandera. I've traveled many miles on this red road (spiritual path) to get to where I'm at.
My studies are of mind, body, spirit. I've studied many modalities, taken many classes on herbalism/plant medicine, massage, hypnotherapy, working with energy, studied holistic health. nutrition, have certifications and permission from my elders to facilitate sacred ceremonies. 
With all those hours, time, money, and energy invested into learning, it wasn't that, that gave me the understanding, wisdom, compassion, and passion  for my work. It was through my own life lessons and traumas that I learned, but only until when I decided and committed myself to doing "the work" that I was able to really grasp and innerstand how to love and hold space for others. It was only when I committed to healing myself that I knew how to guide others through their healing journey.
Growing up, I always had what I needed, but not always what I wanted. So I've always worked very hard to get what I have. I also experienced traumas and because of those traumas I was afraid to be seen and afraid to speak up. Now through my learning, lessons, and healing. I've learned how to transmute these thoughts, programs and energies into my medicine. I acquired the wisdom to unhook from the matrix and false narratives that say we are defined by those traumas and learned behaviors. I learned how to step into my sovereignty, power, self love and abundance. I now KNOW we get to create in every moment and that we have free will and the ability to alchemize energy.
In the process of my healing journey I found the most profound healing in the ancient traditional healings and sacred indigenous ceremonies. Through attending ceremonies is how I met my elders, and my connection to spirit and my guides became strong. My desire to learn my indigenous culture became very important and was something my heart followed. As I learned, the path I walk is more narrow. Meaning, I knew what my purpose was. I knew I was to be of service to humanity, continue sharing about our traditions and a carrier of sacred sacraments.
Some of the sacred ceremonies I've had the privilege and honor to be a part of are Peace & Dignity Run, Sundance, teepee, sweat lodge, pow wows, and I traveled to Iquitos Peru for Ayahuasca ceremonies, where I met my Maestros Don Lucho and Anderson from whom I received permission to be a carrier of grandmother Aya and continue to learn from.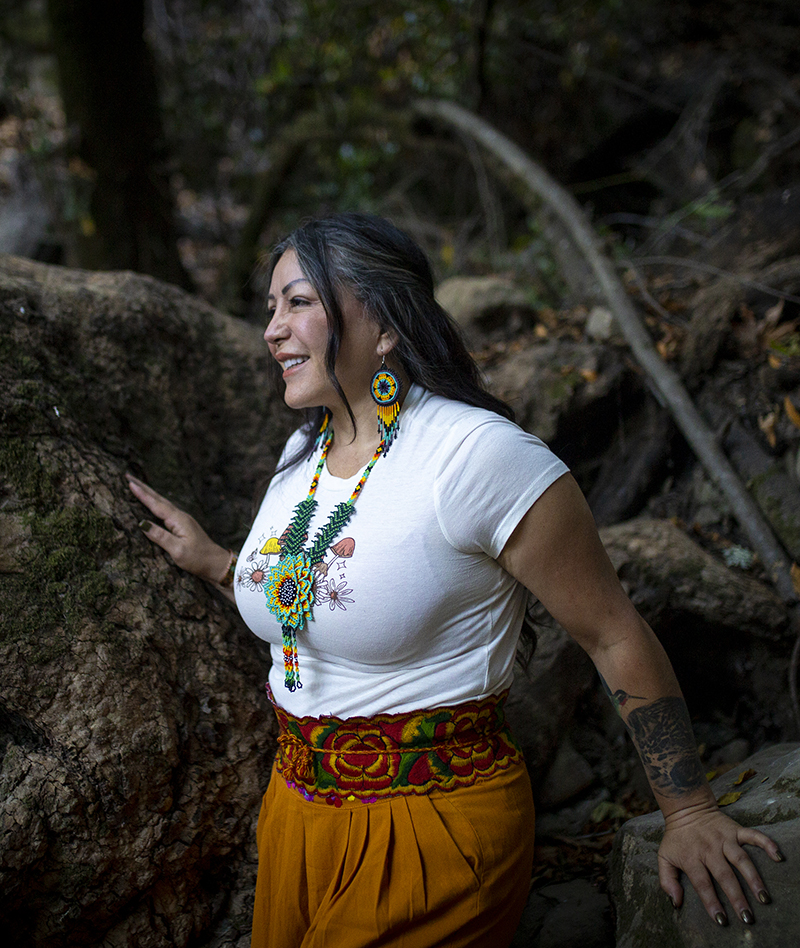 Currently, I continue to nurture and build my relationship with grandmother Aya. I've also been in a dieta (study) for 3 years with another master plant teacher and I continue to work on myself so I can continue to evolve.
With the guidance of my ancestors and creator, I was led to open up the ministry, Spiritual House of Indigenous Medicine. I had many visions and conversations with my ancestors where they have showed me I was to bring community together and merge our traditions in a way where they can be taught in this fast evolving world so that they don't get lost or forgotten and continue for generations to come.
I invite and look forward to having you heal and grow with our community…
Rosa (Luna)